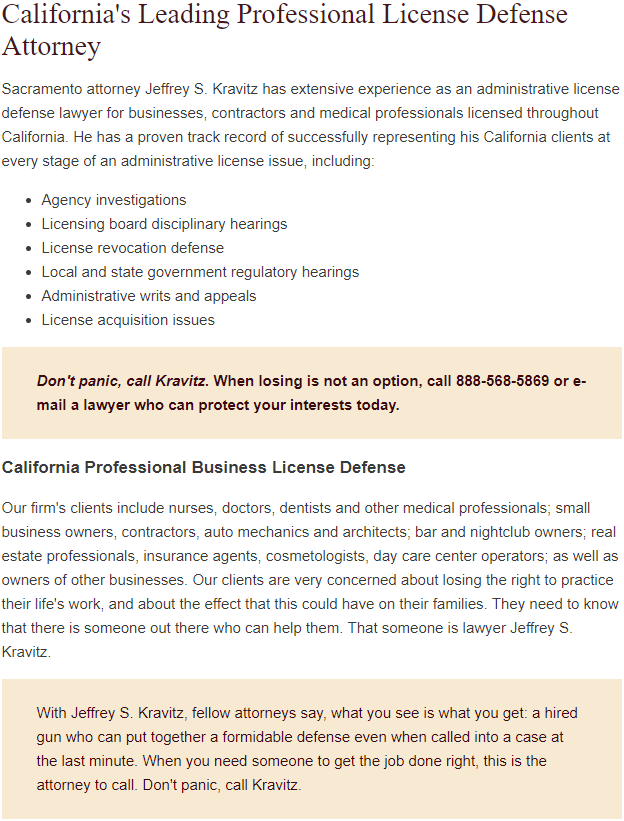 Contractor License Defense Lawyer Fairfield
Our team at Kravitz Law Office stands as a professional contractor license defense firm who believes in caring for each client with dignity, respect, and class. Our legal firm has been helping clients in the Fairfield area for 20 years, and our reputation of success speaks for itself.
At Kravitz Law Office, we listen to each of our Fairfield area clients, using their perspective to ensure we're providing exceptional legal services tailored to specific contractor license defense matters. For 20 years, we have learned how to monitor the new changes and trends in contractor license defense law to provide the best service possible.
Our legal team at Kravitz Law Office has been practicing contractor license defense related law in Fairfield area courts for over 20 years, and we believe in obtaining legal justice for every client and every case. If you are in need of a professional contractor license defense firm on which you can depend, choose us at Kravitz Law Office, and get the representation you deserve.
Contact our professionals at Kravitz Law Office today!
If you face contractor license defense problems of any sort in the Fairfield area, we can offer a wide range of legal services. Do not waste our 20 years worth of gained experience. Call us at (916) 553-4072 today.
Kravitz Law Office
6747 Fair Oaks Blvd.
Carmichael, CA 95608
(916) 553-4072